The all-in-one platform to
write
validate
negotiate
sign
follow

all your legal documents
Automate all types of documents, without limit of complexity, and create your own contract library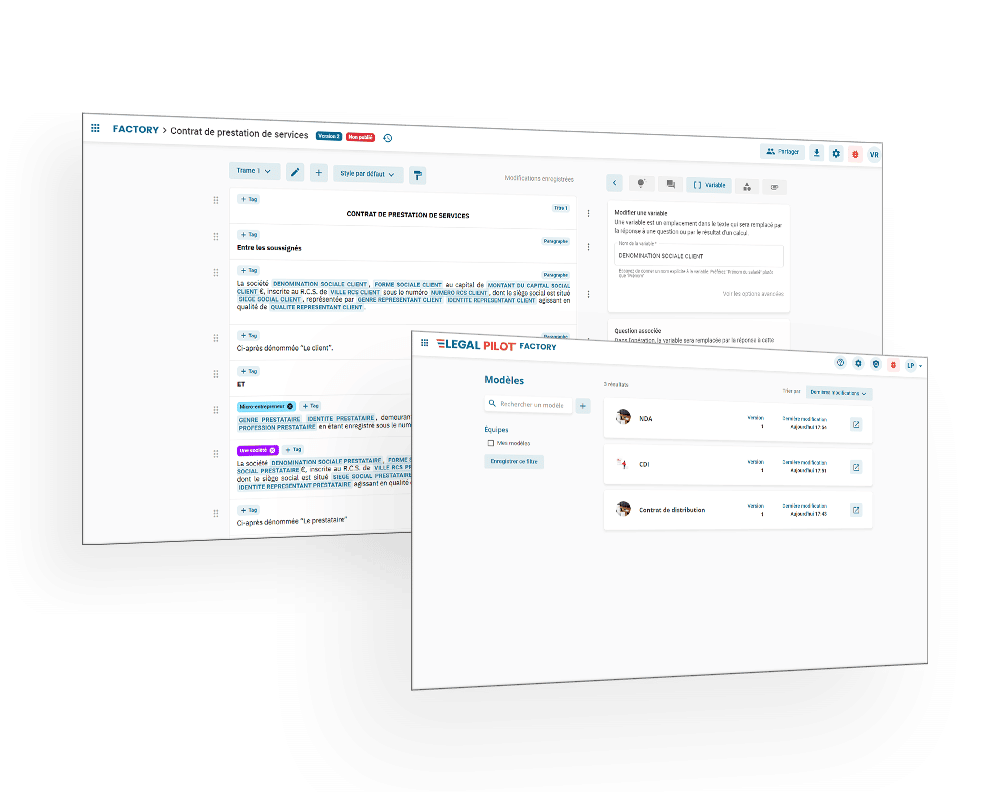 Free yourself from repetitive tasks through automation
The list of tools used internally between the different departments to draft and manage your contracts is becoming unmanageable: Word, Gmail, Outlook, Slack, Teams, DocuSign, Google Drive, Excel, HubSpot, Salesforce, etc.
This leads to an increase in administrative and management tasks, friction between interlocutors, with the consequence of slowing down the contractual cycle of your company. 
Our mission is to free you from tasks that don't require your legal expertise, to save you time and popularity, because you can't afford to have the signing of contracts block your growth! 
A workspace to unify your forces with the business and get contracts signed faster
Legal Pilot enables the legal department to deliver a self-service contract generation solution to operational staff and to optimise each stage of the contract lifecycle, within a single, scalable and easy-to-use platform. 
Master each step of the
life cycle of your contracts
Discover all the tools of the Legal Pilot all-in-one platform.
Factory
Forms
Docs
Talks
Sign
Project
Tasks
Data
Reporting
Settings
Create digital contract templates entirely online!
Thanks to Legal Pilot's new no-code contract editor, import your Word templates in three clicks and quickly model your own your own automated contracts, customized and adapted to your your business, regardless of complexity, language or subject matter. subject matter.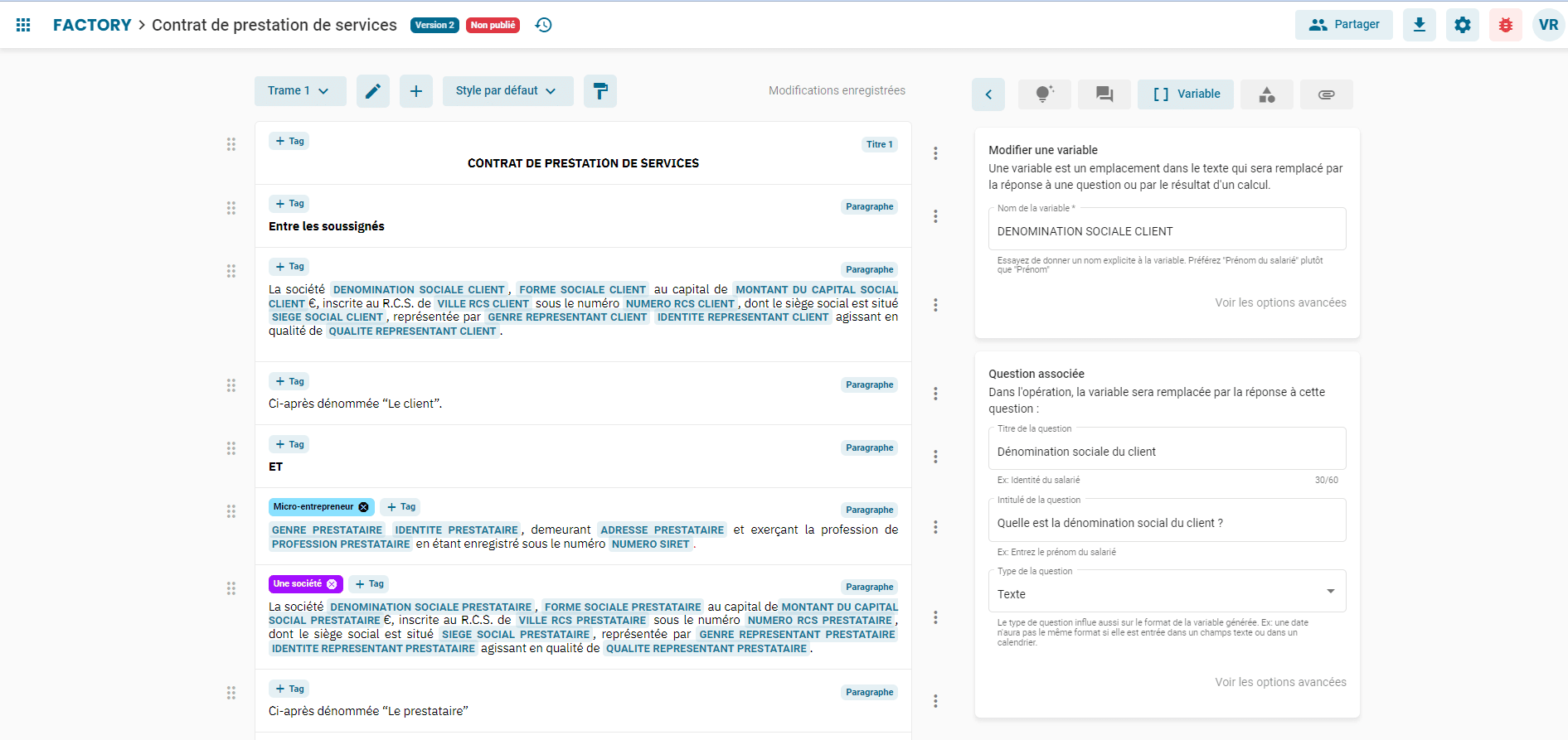 Make the legal system accessible to the whole company in a safe and security
Provide your operational staff with intelligent online questionnaires questionnaires and make it possible for any company profile to by any profile in the company, without the systematic intervention of a lawyer.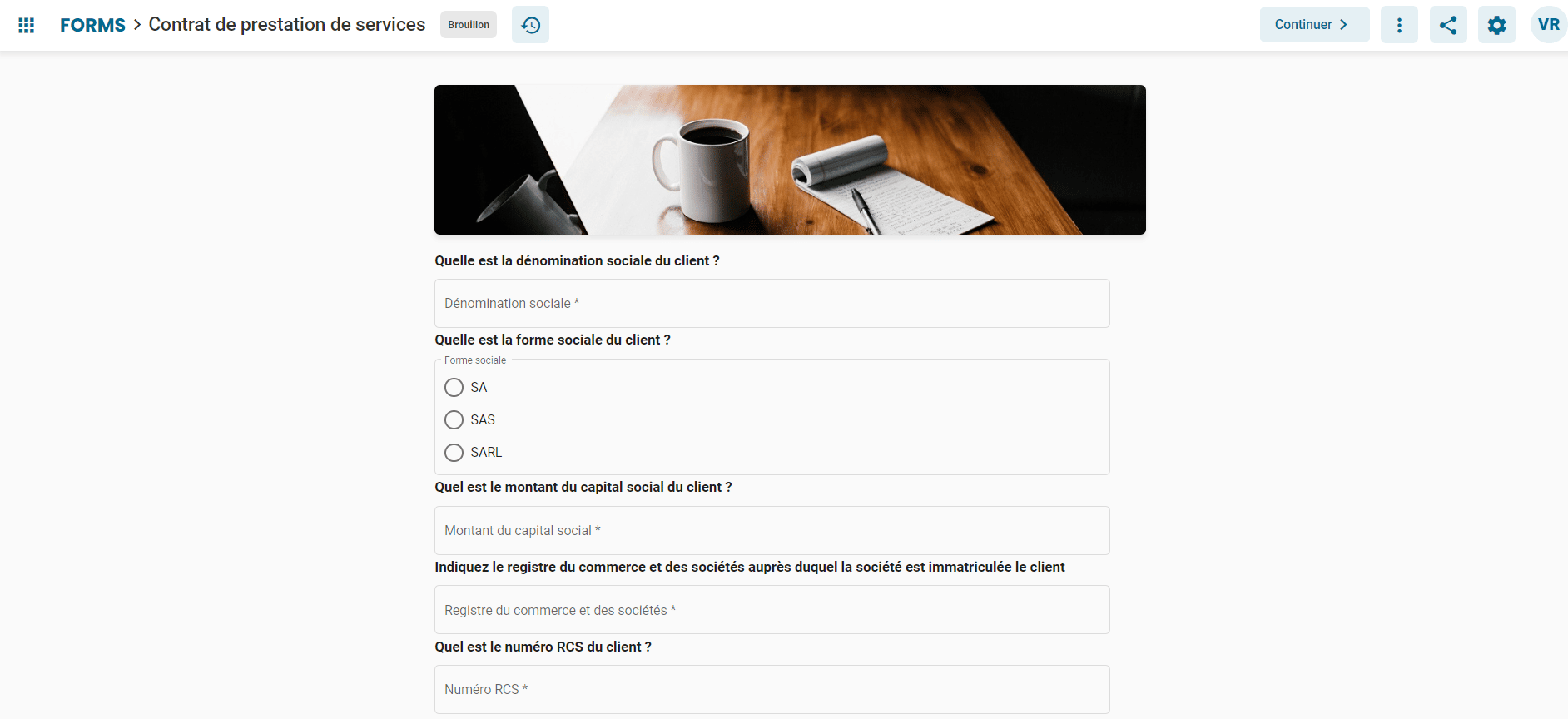 Get validations faster than ever
Don't let internal approvals slow you down, demonstrate unprecedented efficiency and responsiveness in handling requests from your internal customers' requests.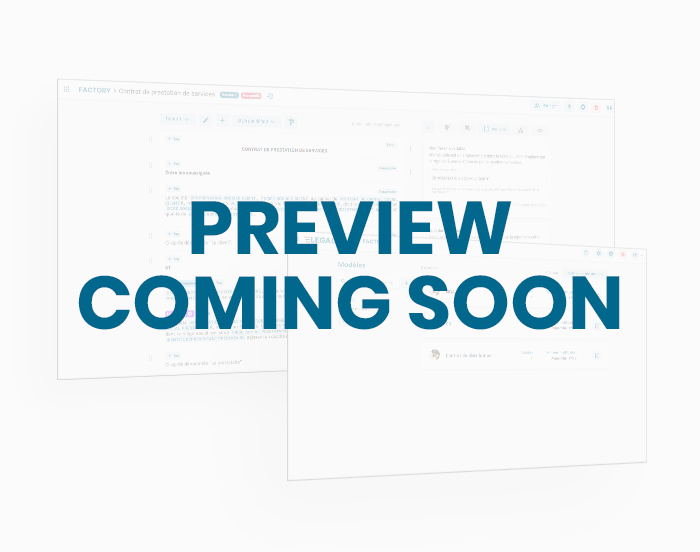 Invite the rest of the world to negotiate your contracts online
Invite all internal and external stakeholders to the contract in the same space and external parties to the contract in the same space, free of charge and unlimited exchanges, eliminate the need to go back and forth by email and modify contracts without having to worry about mark-ups and mark-ups and versions.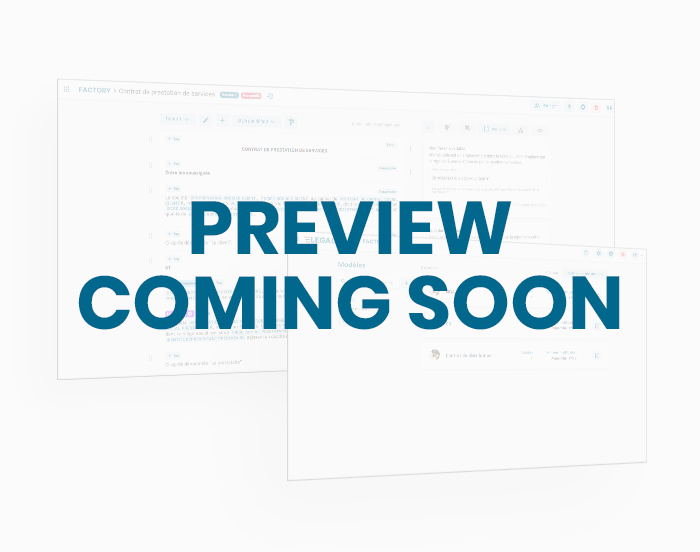 Sign your documents from Legal Pilot
Thanks to a native electronic signature integration, send the right version for signature, the one that everyone has agreed on, without leaving your Legal Pilot tab.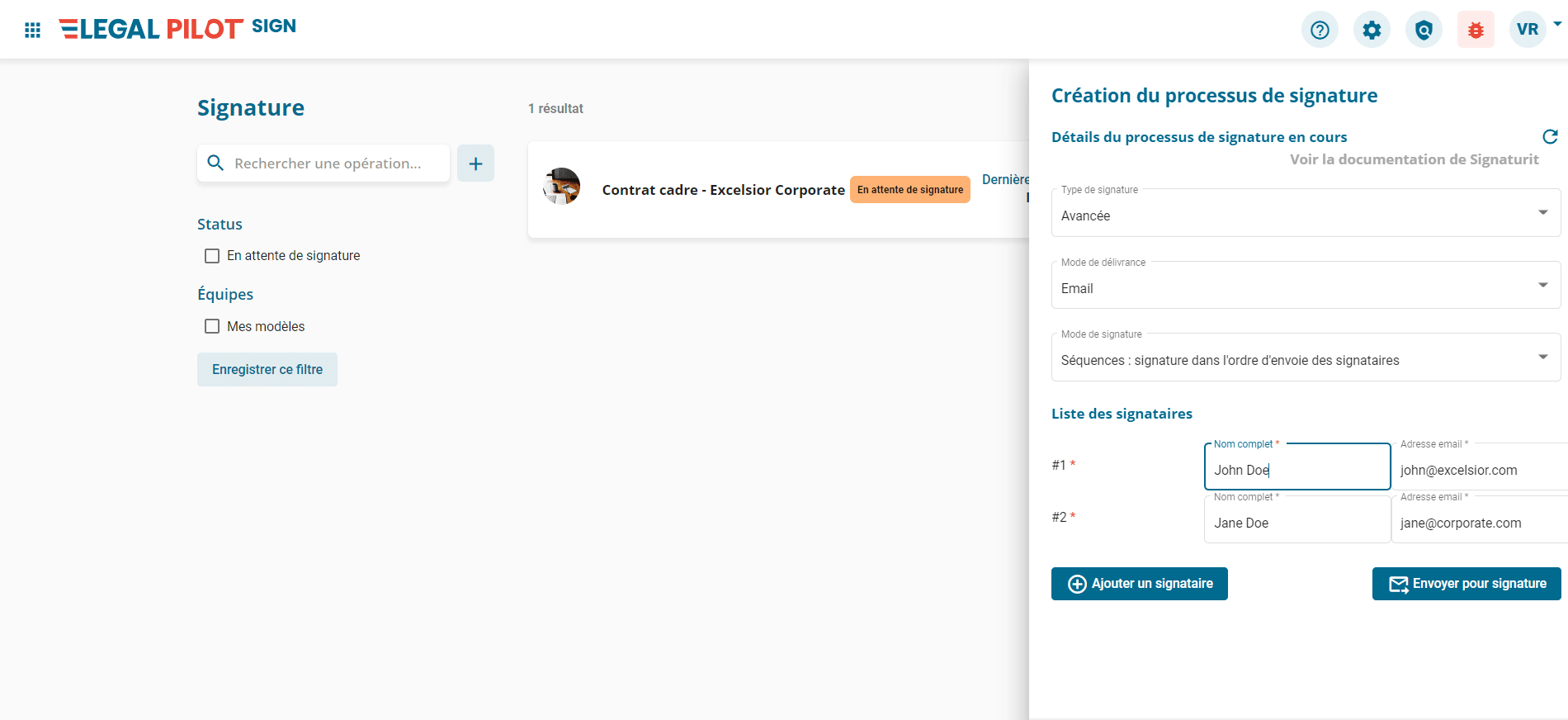 Easily track your projects from start to finish
Centralise documents, exchanges and key data for your contracts. Keep track of arbitrations for all operations related to the same project and don't waste time navigating between different files and emails.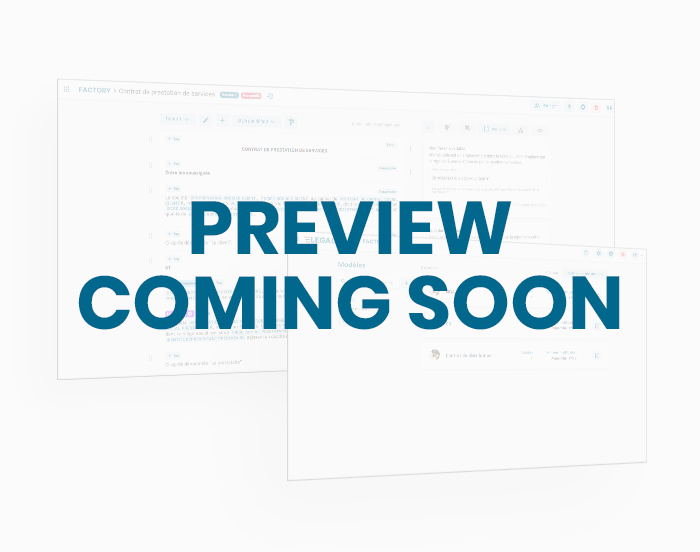 Automate the creation and management of your deadlines and follow-up tasks
Schedule alerts automatically based on dates, deadlines and deadlines in your contracts without even thinking about it. Never again miss the chance to terminate a costly contract or generate an amendment.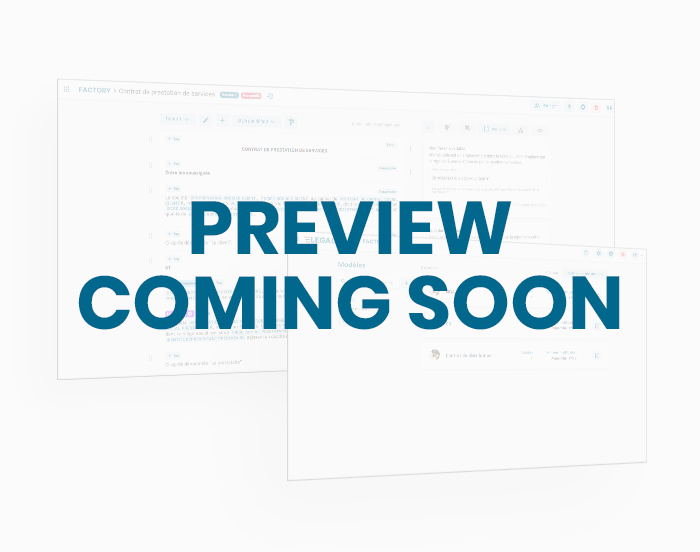 Make effective use of company data
Synchronise and re-use the data contained in the company's tools and take it to the next level by eliminating the re-keying of information between business and legal.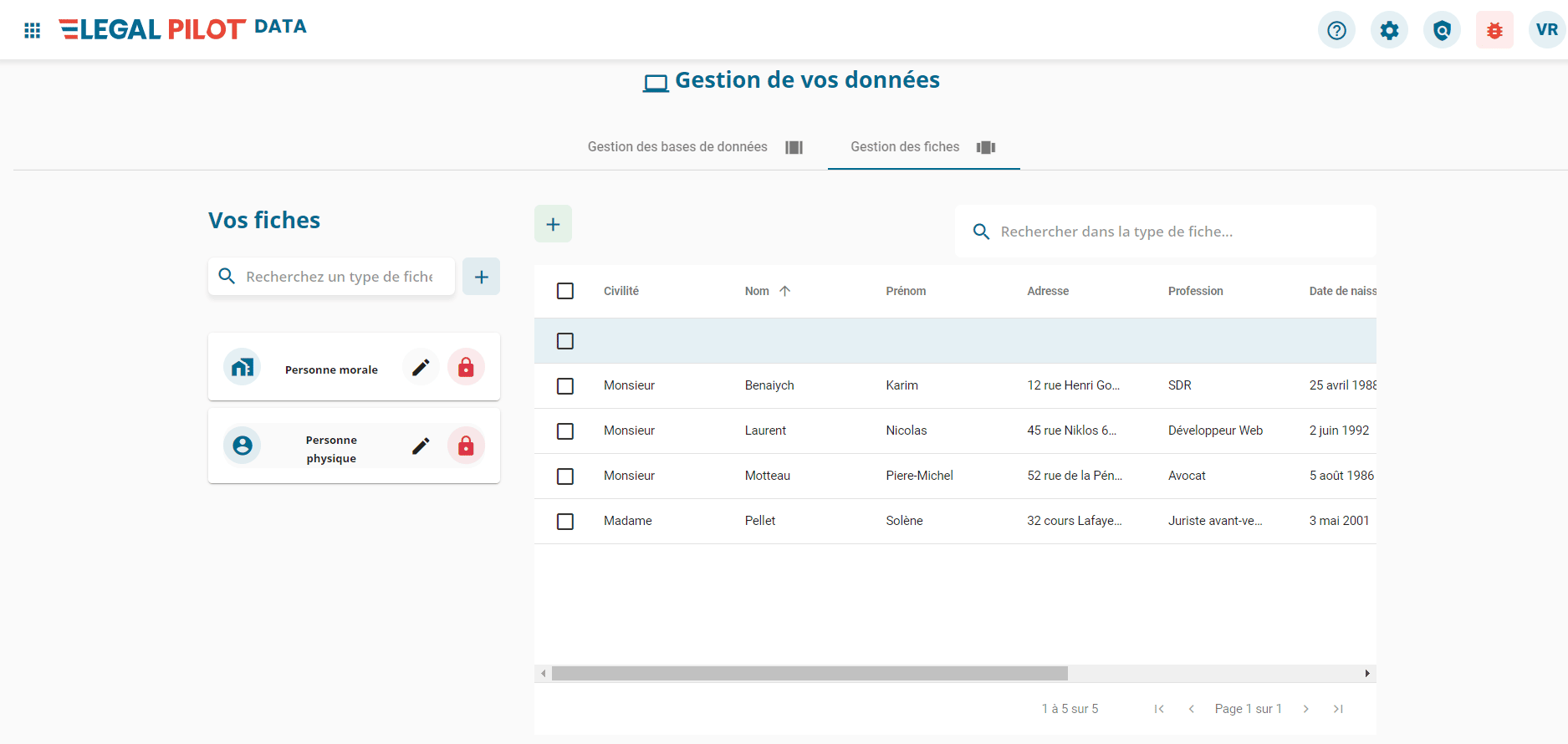 Centralise all your documents and leverage the data in your contracts
Improve document sharing, search and storage: instantly find the document you need, create custom, reusable views in table or chart format, without having to manage multiple files or Excel tabs.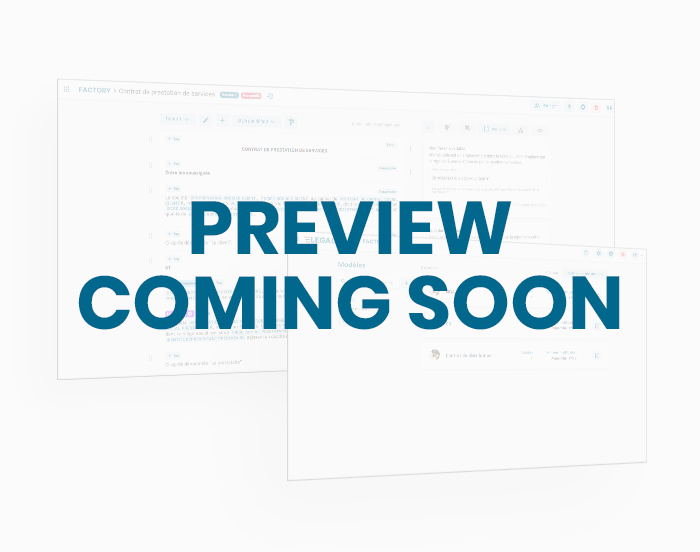 Organise rights and access for the whole company
Fine-tune access rights for all users within a single interface: create teams, custom or generic roles.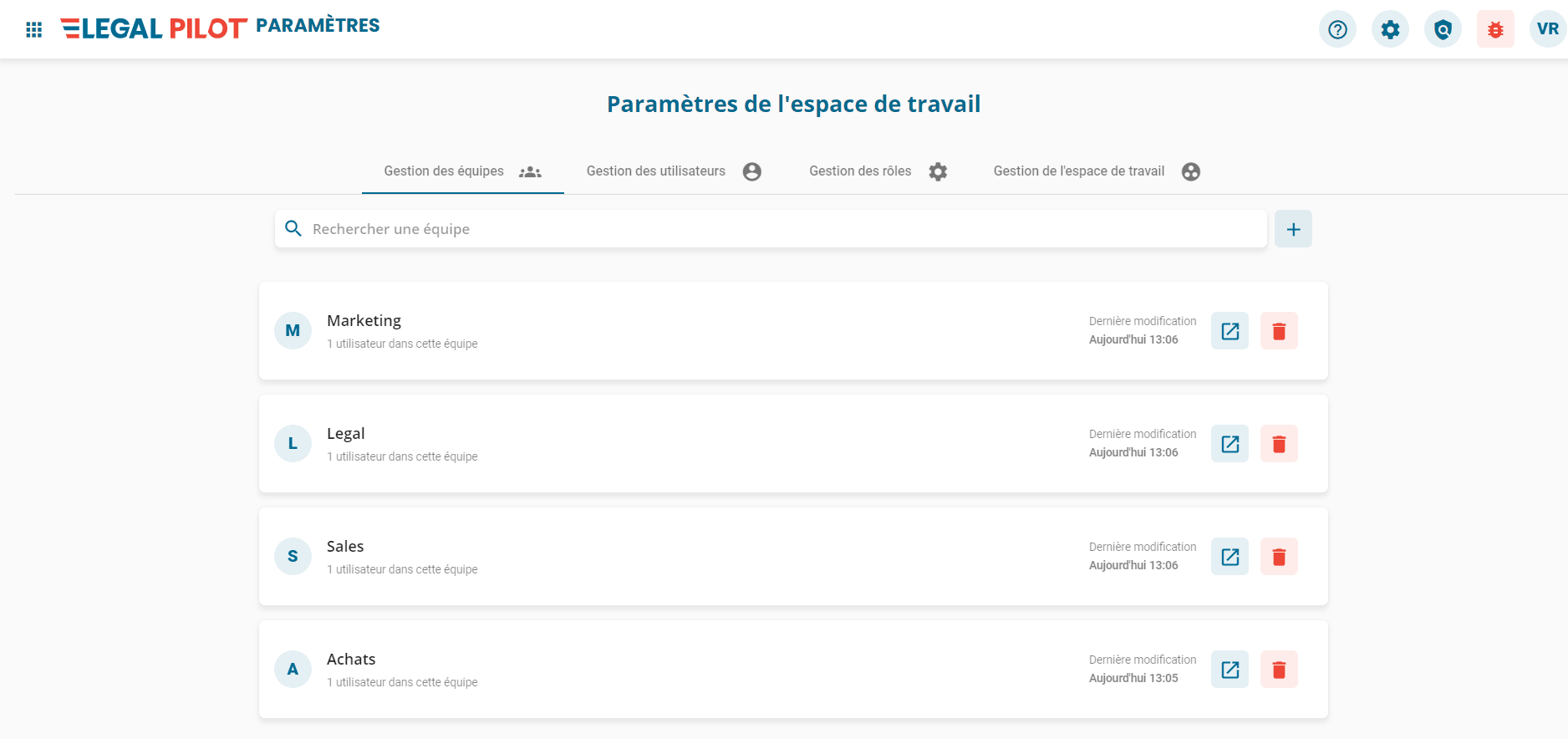 "Thanks to Legal Pilot, we have been able to automate the creation of standardised contracts and thus free ourselves from time-consuming proofreading and validation. "
"Thanks to Legal Pilot, we were able to set up and integrate our chatbot very easily in order to redirect our users to the solution adapted to their needs".
"LEGAL PILOT enabled us to provide our merchants with terms and conditions drafted by a lawyer, easily customizable and above all extremely fast. "
Loved by innovative lawyers, used by entire organisations
FAQ
I don't have the time to automate my models, can you do it for me?

I'd love to! We have an in-house team of legal engineers and legal ops experts in modelling, document automation and legal processes, who will be delighted to assist you.
Do you provide model contracts?

No, we are not a legal publisher and we do not provide model documents. One of the added values of our solution is that you can automate your own templates, so that you can offer a unique experience and retain control over the quality of the content. However, our team of legal experts can help you automate your own templates on request!
Do you reuse my models?

Certainly not! As mentioned above, we are not publishers and we do not provide templates. Therefore, your templates remain your property, and only people in your organisation with access rights will be able to view and use them.
Can I easily invite people to negotiate on a contract?

As soon as you have the negotiation module, you can invite anyone to come and collaborate! Whether your guest is an internal or external member of the company, a partner, their legal counsel, your lawyer or your sales manager, invitations to negotiations are free and unlimited!
I am not computer literate, can I still use Legal Pilot?

Absolutely! We offer a no-code template editor that will allow you to design the most complex acts quickly and easily. Because implementing a legaltech solution doesn't have to take 3 years, nor does it require web development skills.
And if I need help with my project as a whole, can Legal Pilot help me?

The support functions are performed exclusively by legal profiles & legal ops. Whenever possible, we mobilise a lawyer who is an expert in your field of activity, so that you can be sure you are dealing with the right person. We are able to support you at all stages of your project, and in particular upstream of the implementation of our tool internally, for a smoother and wider adoption.
Where is my data stored?

In France, at OVH! For more information on this subject, you can consult our privacy policy.
"Doing more with less" is nowadays the constraint for legal departments, which are constantly under pressure and are asked to be more and more involved in the company's strategy and management.
The legal and regulatory environment, risk management, the complexity of drafting and negotiating documents, are all elements that complicate the work of lawyers but also of their interlocutors.
The tools and resources available to them to deal with this are very often below their ambitions and objectives. There is no real business tool dedicated to in-house lawyers.
As lawyers or former lawyers ourselves, we want things to change for our clients. Our objective is to put the lawyer back at the centre of the contractual process while bringing him closer to the operational staff.
READY TO TAKE BACK CONTROL OF YOUR CONTRACTS?
We provide a collaborative contract automation tool that enables contract management and business security
Don't let document drafting slow down your decisions or put you at risk.